Product Detail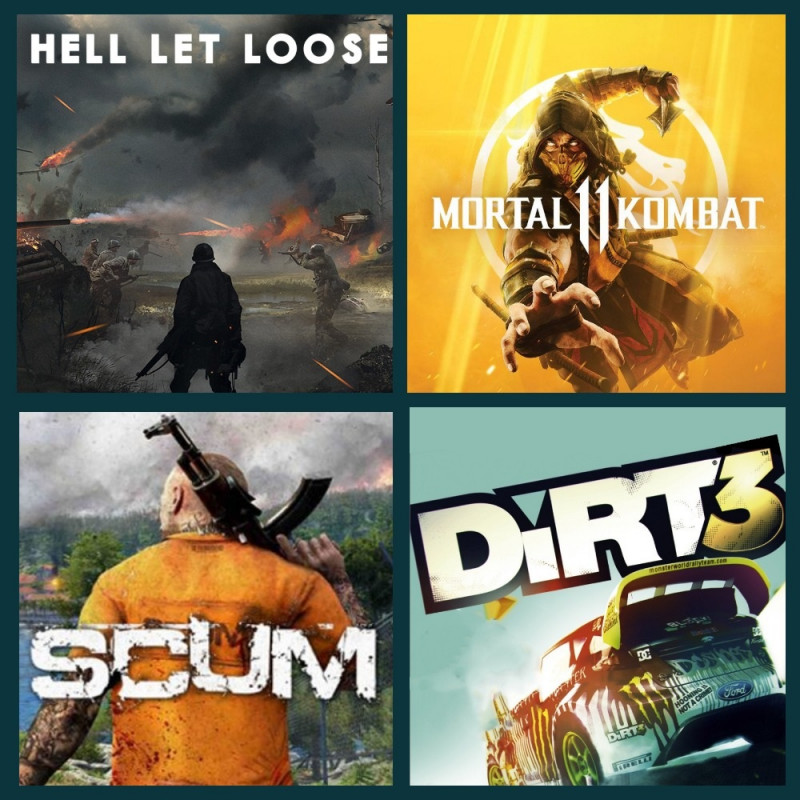 1 Pack=4 games (Hell Let Loose, Mortal Kombat 11, SCUM, Dirt 3 Complete Edition Reward Chest)
Product Code:

Steam

Availability:

In Stock
Hell let Loose
You've never played World War 2 the way it was meant to be played... with lumbering tanks dominating the battlefield, crucial supply chains fuelling the frontlines, being a cog in the machine of colossal combined arms warfare. Hell Let Loose puts you in the chaos of war, complete with deep player-controlled vehicles, a dynamically evolving front line, and crucial unit-focused gameplay that commands the tide of battle.

Featuring sweeping maps modelled on real reconnaissance images and satellite data, the entire battlefield is divided up into large capture sectors - allowing for emergent and constantly unique gameplay that pits two forces of fifty players in a fight to the death across fields, bridges, forests and towns on an ever-evolving front line. When a sector is captured, it will generate one of three resources for your team, creating a complex meta-game that will influence your team's march to victory.
Mortal Kombat

Mortal Kombat 11 retains many of the Mortal Kombat 10's gameplay mechanics, including Fatalities and Brutalities, brutally graphic finishing moves. Each character has a specific Fatality, which references their personality in some way. Former action movie star Johnny Cage beats his opponents with a gilded figure of himself, gunslinger Erron Black uses his revolvers to riddle enemies with bullets, and so on.
MK XI introduces several new features. One of them is Fatal Blow – a special move, which deals a huge amount of damage, however, it becomes available only after the player's health drops below 30%. Another new mechanic is Krushing Blow. It acts similarly to the X-ray techniques from the previous game, where certain moves triggered the slow-motion effect and showed with graphic detail the damage done to the enemy's organs and bones. Krushing Blow can be used only once per a duel, so players should use it wisely. Flawless Block allows the player to counter after precisely timed block.
The game introduces Gear system, borrowed from Netherrealm Studio's Injustice 2. It allows for cosmetic changes to characters outfits. Variation system of Mortal Kombat X returns, allowing players to customize their fighter's moveset, by choosing from a predetermined list of variations.
Scum
The world's unquenchable need for entertainment has turned towards bloodlust as entertainment behemoth TEC1 is set to premiere season two of its television sensation SCUM. This new season moves the contest from the rugged, enclosed indoor arenas to the lush forests, rolling fields, and rugged terrains of TEC1''s own private SCUM Island. Both fan favorites and new prisoners will clash in a ruthless war of survival while battling for the support of viewers, producers, and corporate sponsors for fame, gifts, and a chance of life after death.

SCUM aims to evolve the multiplayer open world survival game with unprecedented levels of character customization, control and progression, where knowledge and skills are the ultimate weapons for long-term survival. Combining the methodical planning and management of hardcore survival with optional PvP 'network events' available to everyone at anytime, SCUM strikes a unique balance between complex simulation and intense action in the next generation of survival game.
Dirt 3 Complete edition
Brace yourselves because in DiRT you have to show off your driving skills in order to be noticed by sponsors that will provide you with new cars. To gain attention participate in game modes such as Rally, Rallycross, Trailblazer, Landrush and Head 2 Head as well as try out the new Gymkhana mode. Here you need to have a good deal of trick-performing skills to earn points as you will have to go around obstacles such as, cones, tires, and barrels on the 'freestyle arenas' in order to entertain the crowd and satisfy the judges who reward you with points.