Product Detail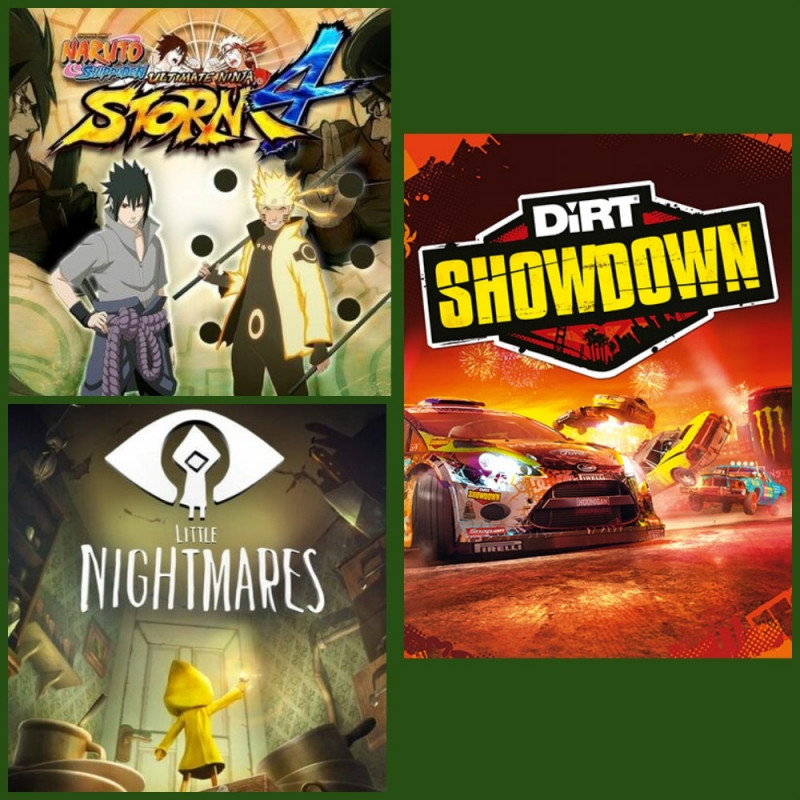 1 Pack= 3 games (Naruto Shippuden: Ultimate Ninja Storm 4,Little Nightmares Complete Edition, Dirt Showdown Reward Chest)
Product Code:

Codemasters

Availability:

In Stock
Naruto Shippuden: Ultimate Ninja Storm 4
The fourth shinobi war had started and you have to stop it
Madara Uchiha and Tobi were able to extract tailed beasts from their hosts. With all power necessary they launched a full scale war against entire shinobi World. Five Great Shinobi Countries decided to assemble and create the Allied Shinobi Forces in order to be able to stop the threat. Unfortunately even with such powerful army you stand against formidable enemy. Hence it is up to you to stop Madara. Together with Naruto, Kakashi, Sakura, Sasuke, Shikaramu, Gaara and other heroes you can prevail. Show everyone, that will of fire cannot be extinguished.
Little Nightmares Complete
Immerse yourself in Little Nightmares, a dark whimsical tale that will confront you with your childhood fears! Help Six escape The Maw – a vast, mysterious vessel inhabited by corrupted souls looking for their next meal. As you progress on your journey, explore the most disturbing dollhouse offering a prison to escape from and a playground full of secrets to discover. Reconnect with your inner child to unleash your imagination and find the way out!
Dirt Showdown Reward Chest
DiRT Showdown is a special instalment of the racer game by Codemasters. This time, the producers left simulation behind and implemented a more arcade approach, with more action and fast-paced gameplay.
Race, crash and hoon your way through a world tour of motorised mayhem in DiRT Showdown! Crowd atmosphere, social gameplay and accessibility are all ramped up in this turbo- injected shot of driving delirium. Smash down the accelerator and earn the adulation of frenzied crowds at hyper-energised events at iconic locations. Trick, speed and smash your way to victory, then do it again.